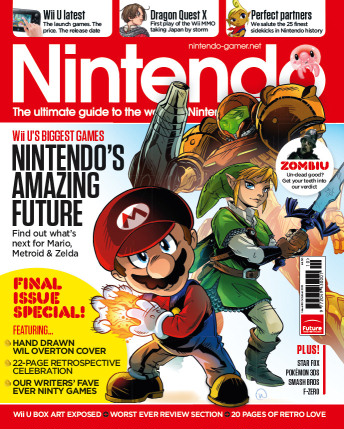 My little goodbye for the final issue of the late, great Nintendo Gamer/NGamer/NGC/N64 was shortened a bit for space reasons. Which means my amazing joke about the R-Type robot on issue 7's cover was lost to the ages. Until now! Here, I give you the uncut version, and get a little bit sad again about the closure of the mag.
And I meant "space lips", not "space moustache". Tsk.
—
Cripes, I'd forgotten that the cover logo once featured the robot from R-Type, of all things. That's the beauty of being the Editor, readers — you can do what you want!
I miss it, you know.
Helping launch NGamer and steering it through its first couple of years was an absolute honour. Scary, too — how was I going to live up to the legacy of Super Play, N64 and NGC? The answer: cheat. I had the best team and the best readers in the world — so I could basically just sit back and watch 100 pages of peerless magazine magic materialize in front of my eyes every month.
What I loved most were the tiny things that took a preposterous amount of work, like Chrissy wearily photographing all 97 Nintendogs costumes or Matthew trawling through blurry Mario Galaxy preview video for a scoop (and only finding a "space moustache"). That was the special stuff, because it made the mag feel as full of secrets, surprises, love and care as a Nintendo game.
So I'm sad as anything to see it all end. But Nintendo Gamer's spirit lives on, readers — in your hearts and in your souls! And on your bookshelf if you keep your old copies of the mag, natch.