Andrew Brophy has released three games in one go — which means to find time to play them all through in one day, I've had to give up sleep, naptime, mid-afternoon naptime and late evening snooze. You'll understand if I'm a bit crabby.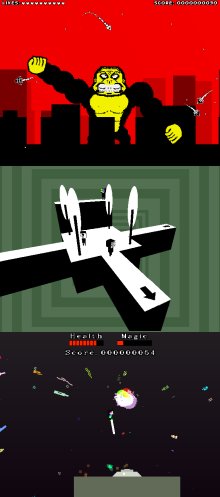 1 Back To The Laboratory. Dodge your pet monkey's flailing fists — while protecting those very same fists from the evil army fighter jets. The anguish! Below-average shooter, but 10/10 for the monkey drawing. His spiralling eyeballs will haunt you in your sleep for decades to come.
2 Takishawa Is Dead! A visually appealing 3D platformer, ostensibly about the search for the eponymous Takishawa. Mainly notable for having to wait 30+ seconds for your hero to very slowly descend to the first level, which is right up there with the queue at the post office on my Fun-Time Things list. Other than that, Takishawa Is Dead! is strangely alluring stuff, despite its obvious simplicity and insistence that this time, buster, you're gonna be the cameraman.
3 Sworrd Buster. Andrew, I like this one, I really do. But. You grab the sword, you wave the sword, you shoot astonishingly pretty laser death from the sword… what's not to like? Answer: INVISIBLE BOUNDARIES THAT MAKE PLAYING IMPOSSIBLE. Tch. Perhaps you're supposed to stay near to that 'base' at the bottom of the level? I'll give it the benefit of the doubt: those rainbow lasers really have put my eyes in a very good mood.
Play Back To The Laboratory, Takishawa Is Dead! and Sworrd Buster (Windows download)